Our prior policy is quality & eclogy.
We would try and try for possibility to create new product
& basically ecological product for human environment.
ASAHI FIBER INDUSTRY prepared getting certification of ISO9001 and ISO14001 at the same time by way of thinking that quality and environmental activity is same, and we are certified for both at the same time on December-15th-2003. Major activities for example are "FIBER ROD made from biodegradability fiber" and "re-cycling fiber rod made from flocks by a spinning mill".
ASAHI FIBER will keep developing the environment friendly products, reducing disposal and trying to use energy effectively. We will keep considering activity for the earth, and we challenge new possibility by developing useful products for life without limiting field of activity.
IMS (Integrated Management System) POLICY
We serve for human's future in the shade

Contributing for customer's improvement of technology
by using our unique know-how

Each member of our company serve to make "clean company"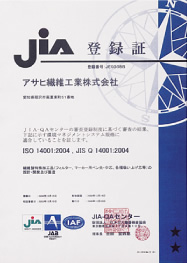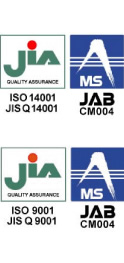 To achieve policy above, each personnel will comply with laws, ordinances and other rules. And we will assure and improve quality of our products which customer will be satisfied. Also we will keep finding new needs and preventing to pollute the environment.
We will take responsibility to the society as company by managing "Acctivity of company", "Quality of products" and "Influence to the environment" to be appropriate.
We will set the target for quality and the environment, and make sure all personnel knows target and take care it.
By setting outline, we will review status of achievement for "development of environment friendly products", "reducing disposal", "the effective use of the energy" and other.
By reviewing status, we will keep improving managing system by improving our performance.
And we will put the policy on internet and signboard to be available for people generally.